Free Estimates on Oil Tank Replacement in Suffolk County
A few decades ago, oil tank installation in the Suffolk County region was primarily done in the form of buried or underground tanks. At the time, buried oil tanks were believed to be durable, but now, it's been demonstrated that the majority of those oil tanks have deteriorated and rusted, developing leaks—which may become a critical environmental hazard.
Oil Tank Replacement on Long Island NY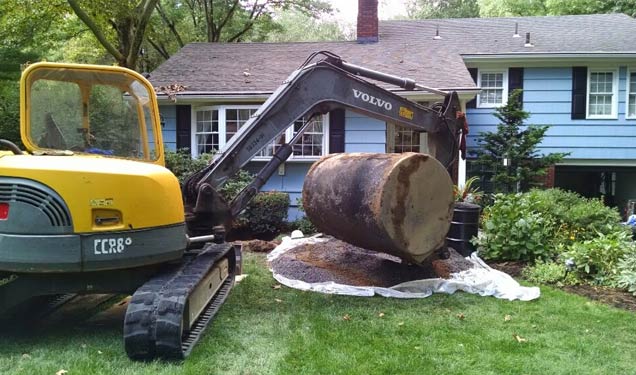 The solution for an old buried oil tank would be to get it abandoned and replaced with a brand-new fiberglass tank that is less likely to develop leaks over time. Soil evaluations and other indications exist to determine if you have a faulty or leaking oil tank. Even if your tank is not leaking, you should have it abandoned or removed ASAP anyways. If there's been a contamination, the DEC will need to be notified and they (at the home owner's expense) will start removing the oil tank and all of the contaminated dirt. Based upon the number of hours/total work required, it could get pricey.
Should you wait until a leak forms, the price will be even greater as you are going to need to eliminate all of the contaminated dirt as well as replace the tank. If you have not yet discovered issues, you can save cash by going ahead and replacing your oil tank now and saving yourself the trouble of having to deal with contaminated soil and reporting an environmental hazard. Inevitably, the oil tank will gradually start leaking at some point so it's best to go ahead and replace it.
If you are purchasing a house with an underground oil tank, you should have tests conducted to check whether or not it's leaking. Even if it is not, think about having it replaced earlier rather than later—maybe at the present home owner's cost. If it's leaking, do not buy the home until an arrangement has been made for the oil tank to be properly abandoned or replaced and the contamination, if any, to be fixed.
You can also see whether the house you are buying has an abandoned buried oil tank. If the owners state that they do, double-check paperwork to show it's been abandoned to municipal regulations, meaning it has been properly cleaned, filled with foam or sand, and rendered unusable and can no longer pose any hazards. You'll also need a new oil tank installation.
Standard aboveground oil tanks we install come with:
Capacity (gallons) 275
Electricity Required: No
Fuel Gauge: Yes
Heating Product Type: Heating Oil
Heating Technology Type: Convection.
Steel.
Oil Tank Replacement Cost
Call us today for a free, no-obligation oil tank replacement estimate. Always make sure that the company you're dealing with is reliable and that they will make every effort not to destroy more of your yard than they have to. They may need to conduct tests to ensure the soil isn't contaminated, and if it is, they will need to arrange to get this dirt removed and the holes filled back in.
oil tank replacement suffolk county ny, oil tank replacement long island, oil tank replacement cost