Oil Tank Removal Suffolk County, Nassau County & Queens NY
Fast and Experienced Oil Tank Service in Suffolk County, Long Island
Our comprehensive Oil Tank Removal Service in Suffolk County not only supplies heating oil to the vast majority of the county but also includes dealing with oil tank removal, oil tank installation and oil tank abandonment in a safe and environmentally-friendly way.
We can also provide our customers with oil tank replacement and all types of new oil tank installation to meet your individual requirements. We are fully insured and our certified team members are extensively trained so that they can efficiently deal with all your oil tank needs.
If you find yourself in the situation where you need to arrange for oil tank removal then you will need to contact a reputable contractor, who is both fully trained and certified to carry out the procedure. Oil tank removal can be a complicated process and the oil tank removal cost will be directly related to a number of factors that include the size of the oil tank, its location and whether there has been any contamination to the surrounding soil.
The oil tank removal process will start with the contractor carrying out a detailed site assessment to clarify the exact type of work that will need to be carried out. He will assess whether a backhoe can be used for the oil tank removal and the extent of any work needed to reverse or stop any further environmental damage. You will then be provided with a free estimate of the work that will need to be carried out to ensure a safe oil tank removal. When you have an oil tank removal cost estimate that you are happy to proceed with, there are certain legalities such as the filing of correct permits and organizing an inspection that will need to take place before the removal can proceed.
The actual oil tank removal can be carried out in one day and will also include the clean-up of any contaminated soil, followed by an oil tank replacement if required. The contractor will have additional soil to provide any landfill needed and the whole procedure will end with a complete site restoration back to its original grade. The contractor will follow all procedures and requirements in compliance with the Suffolk County Oil Tank Service Regulations on oil tank removals.
Once the oil tank removal process is safely completed the contractor will then provide you with a full report that clearly documents the tank removal and any work that was carried out to rectify any environmental damage.
With a new oil tank installation you do have the choice of whether you have your tank placed indoors or outdoors and it is recommended to have it installed indoors, so that it is not subject to the cold weather conditions.
When choosing the size of your new oil tank you will need to consider where the oil tank will be situated, taking into account things like the space you have available, and the amount of oil you will be using as well as how accessible the tank will be for the oil delivery truck.
Your oil tank installation certified contractor will be able to give you the oil tank installation cost of the best type of tank for your needs.
If you have had your old oil tank removed then the new oil tank installation can be easily positioned in the same cavity that the old one came from, as soon as any contaminated soil in the surrounding area has been disposed of.
However, it is worth considering having an above ground tank installed instead as then your oil tank replacement cost would be significantly less.
The majority of underground oil tanks are now fiber glass coated and come with a 30-year warranty, which makes this type of oil tank replacement a great deal more expensive.
Whichever type of oil tank replacement that you decide on your contractor will be able to fulfil your needs and most oil tank replacement jobs will be completed in just one day.
Oil Tank service Suffolk County can deal with both oil tank removal and oil tank abandonment and even though both methods are legal and proper ways to decommission old oil tanks, it is often recommended that you choose oil tank removal if at all possible.
However, if tank removal is not an option then our trained and certified technicians can carry out oil tank abandonment either using Tripolymer foam or with the traditional sand method.
Tripolymer foam has been used nationwide for over 30 years and is available as part of our oil tank service in Suffolk County.  It is environmentally friendly and using this foam will cause less damage to your property than using the sand method.
The oil tank abandonment cost will depend on both the type of fill you choose and how difficult it is for the technicians to access your oil tank.
Oil tank abandonment with sand will normally involve the following steps.
Check fuel levels in the tank
Removal of any oil left in the tank transferring it to fuel drums
Using a backhoe to fully expose the top of the tank – though if there are hard to reach areas there may need to be some hand digging carried out.
Once the top is fully uncovered a large opening will need to be cut into the tank, so that a technician can get inside to clean it.
All the sludge inside the tank is fully removed
It is then extensively cleaned using absorbent material
This material is then also fully removed from inside the tank the tank is then filled with sand or pea gravel completing the abandonment process.
Finally, the entire hole is back filled and the whole site restored to the original grade.
It is essential that you use a reputable company to carry out your oil tank abandonment; so that once the process has been completed they can supply you with a certificate of abandonment. This will certify that their work has met all the Suffolk County guidelines on oil tank abandonment.
As you can see oil tank abandonment is a less invasive method to deal with an unwanted oil tank, however oil tank removal can often be more cost effective and is also definitely a better option to consider if you plan to sell your property in the future.
Oil Tank Removal Cost on Long Island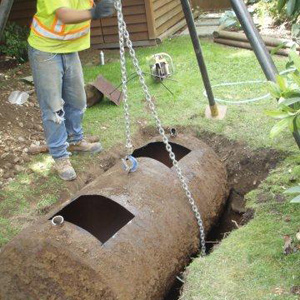 Oil tanks, buried underground were thought to be durable, but today it has been revealed that the great majority of these oil tanks have rusted out and developed leaks, which can be a serious issue for the environment. With this risk in mind, you're probably wondering how much it will cost to have your metal oil tank removed from the ground.
What's The Solution?
The solution for a buried old oil tank is to have it removed and replaced with a new fiberglass tank which will be less likely to develop leaks over time.
How Do I Know If My Oil Tank Is Leaking?
Soil tests and other signs can prove whether your oil tank is leaking. If your oil tank is leaking, you are required to report the issue to the Department of Environmental Conservation. At the property owner's expense, they will begin removing the oil tank and all of the contaminated soil. Depending on the work needed, it can get expensive.
How Much Does It Cost?
If you wait until a problem arises, the cost will be higher as you'll have to remove all of the contaminated soil. However, if you haven't yet noticed problems, you can save money by going ahead and replacing your metal oil tank. Inevitably, the metal tank will begin leaking at some point so you're best off removing the tank before problems arise.
Purchasing A Home?
If you're buying a home in Long Island, you should double check and see if the oil tank is metal or fiberglass. If it's metal, you should have tests conducted to see whether or not it is leaking. If it isn't, consider having it replaced sooner rather than later—perhaps at the current owner's expense. On the other hand, if it is leaking, don't purchase the house until an agreement is made for the oil tank to be replaced and the soil contamination to be remedied.
You can also see if the home you're purchasing has an abandoned buried oil tank. If they say they do, double-check paperwork to prove it has been abandoned to municipal regulations. Abandoning a tank means it has been cleaned, filled, and deactivated so it is no longer considered a hazard.
Who Can Remove Oil Tanks on Long Island?
There are many businesses on Long Island who you can call to get a quote about oil tank removal. You should make sure the company you deal with is reputable, however, and that they'll try to disrupt as little of your yard as possible. They will need to run tests to ensure the soil is not contaminated, and if it is, they should arrange to have that soil removed and replaced.
Types of Oil Tanks installed in Suffolk County, Long Island
It's a good idea to know which type of oil tank that you have on your property, so that you are not only aware of any problems that it can have but also the best way to regularly maintain it.
There are three main types of oil tanks these being aboveground tanks, inground tanks and basement tanks and each come with their own pros and cons.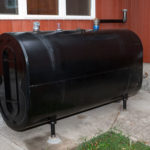 Above ground tanks are normally situated outside of the home making them easy to regularly inspect and maintain, but as they are always out in the open they are highly susceptible to all the effects of our extreme weather conditions.
These types of tanks are more likely to rust and the water damage can result in cracks and therefore oil leaks, however patching carried out by a licensed technician can be a cost effective and viable solution for most minor leaks.
Inground (buried, underground) Oil Tanks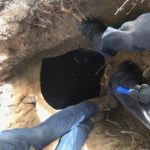 Tanks that are situated in the ground should have a lifespan of around twenty years, though this will depend on the type of material that they are constructed from. The main problems with these types of tanks are that they are difficult to maintain and subject to corrosion from the moisture within the surrounding soil.  Any leakage from an inground tank can also cause environmental issues if not dealt with quickly and efficiently.
There are precautions that your oil tank technician can undertake to try to prevent problems occurring with an in ground tank, however they are rather costly and a better option would be an oil tank removal and installation of either an aboveground or basement tank in its place.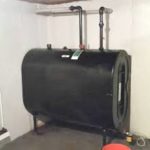 There are many different types of basement tanks including both single and double walled varieties. The main problems with these types of tanks is that due to the condensation within the basements their cover can become subject to cracks and also over time the build up of sludge will make them less efficient.
However, a qualified technician can easily fix any cracks to prevent leakage or if required have your older model exchanged in an environmentally friendly manner. Whichever type of oil tank you have on your property it is important that you perform regular checks whenever possible to make sure that there are no cracks have formed and that there are no oil leaks.
If you do notice a small problem it is best to get a qualified technician in to deal with it straight away to prevent it later escalating into a costly repair.
oil tank removal Suffolk County, Long Island, oil tank abandonment, oil tank installation, oil tank replacement