Call for Your Free Over-The-Phone Estimate For Oil Tank Installation in Suffolk County: 631-830-4356
Why Indoor Oil Tank Installation Is Best
External tanks are susceptible to condensation in the tank with fluctuating temperatures. This lets water get into your oil, producing winter service issues and causing eventual corrosion inside your tank.
Ice and water coming from the roof may break oil pipes and lines coming out of your tank.
External tanks settle and might become unstable, meaning they become an environmental threat that will have to be serviced (meaning more money).
External tanks require the usage of anti-gel additives or a kerosene mix during winter to keep the oil from "gelling" in chilly temperatures.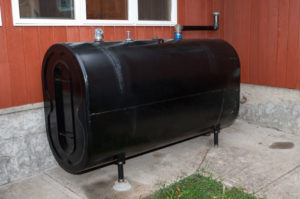 In addition to an external tank being subjected to weather, oil lines will also be vulnerable, meaning possible service interruptions and broken lines.
Indoor oil tanks are usually installed in a utility room, garage or basement. Indoor tanks aren't subjected to the elements and, therefore, do not experience the same dangers as outside tanks face. Fewer risks means less maintenance and enhanced functionality.
Today, there are various types of oil tanks in the industry. For example, a bunded tank is a single tank that sits within another, with the exterior tank being 10% bigger than the inner tank. Bunded tanks are considered the best option as they offer extra protection against leaks and other big issues. The right company will help you in finding the tank that will fit your needs regarding both materials and where to install it.
Buried Oil Tanks in Suffolk County
Growing concern about buried oil tanks mean the only underground oil tanks that are sold and recommended today are dual wall, polyurethane tanks that will not rust or leak down the road.
Even though many contractors and technicians go for a fast, cheap setup, the right company will never advocate nor market a "plain" steel oil tank for buried service. All metal placed underground will gradually deteriorate—it isn't a matter of "if", it is a matter of when and that can cause serious problems for you later on.
Very frequently, oil technicians simply install the least expensive tank they can find. During installation, they scratch the already too thin protective coating and they seldom offer magnesium anode bags or dielectric connections for pipes to prevent electrical interference. These short-sighted quick dollar moves place you, as the house owner, in a bad position in the long run.
You should search for a company who offers environmentally conscious oil tank solutions. One who employs the most innovative technologies to keep your oil services running smoothly for years to come. When the right company puts in your oil tank, you can rest easy knowing it has been done correctly and in compliance with environmental regulations.
If your buried oil tank is more than 20 years old, reputable companies will highly suggest that you consider getting the tank removed from service before you run into expensive issues—like leaks (i.e., an environmental hazard that must be reported). Many companies can take care of the process for you to shield you from severe environmental regulations and expensive "environmental hazard" clean-up costs caused by leaks.
Oil tank installation suffolk county ny, oil tank install long island, new oil tank prices, oil tank installation cost, oil tank replacement price